How to Choose the Best Medical Alert ID in UK
A medical ID is one of the most important pieces of jewellery you can own. It is designed to speak for you when you can't. Since it's a piece of jewellery you'll wear every day, there are some features you need to consider when purchasing one.
Medical ID Bracelet or Necklace
EMS personnel are trained to look around the neck and wrists during an emergency, therefore a bracelet or necklace offer the highest level of identification and protection compared to accessories on one's phone or in one's wallet.
Level of Durability
Medical IDs are as durable as the material used to make them. See chart for summary of durability by metal.
Most Durable

Stainless Steel & Titanium

Suitable for all activities. Scratch Resistant. Brush finish.
Moderately Durable
Silver & Gold-Filled
Suitable for daily wear. High-polish finish for elevated look.

Limit exposure

to harsh chemicals, sweat, and chlorine to prevent tarnish.
14 KT Gold
Suitable for daily wear. High-polish finish for elevated look.

Less susceptible

to tarnish from exposure to harsh chemicals, sweat, and chlorine.
Engraving Space
Different ID styles offer different amounts of engraving space depending on the size of the ID. Some styles offer front and back engraving, while others may only accommodate one. For IDs with limited engraving, we suggest purchasing an expandable wallet card to accompany your ID. We recommend that you also seek the advice of your doctor on which information is best to include.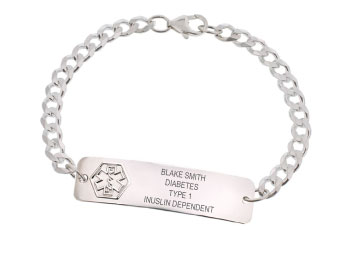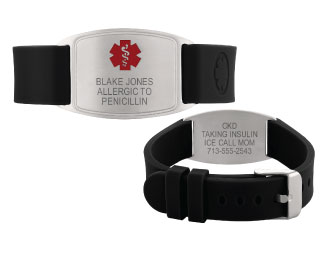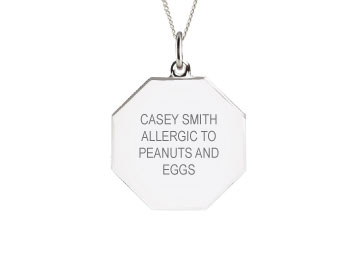 Medical IDs By Occasion
We offer several styles of medical ID jewelry, from casual silicone bracelets great for daily & active wear, to elegant necklaces suited for more formal occasions. Many customers opt for two styles with the same information to allow them to mix and match.