Universal Medical ID has over 25 years of combined experience in providing beautiful and universally recognised medical alert jewellery around the world. We are known for quality medical alert bracelets and necklaces that our customers can wear with pride and peace of mind. For healthcare professionals, our medical IDs allow them to give prompt, precise diagnosis and treatment during an emergency.
Universal Medical ID was founded in 2007 out of the success and good reputation of American Medical ID, which has been in operation since 1994. GPs, consultants, pharmacists, and hospitals from across Australia refer their patients to us whenever they consider a medical ID is appropriate. We value our connections and the trust given to us by healthcare professionals, organisations, and communities who help share the vision of our mission.
Our company continues its mission to offer high-quality medical identification jewellery. Precision laser engraving for personalisation is combined with high-grade metals for engraving surfaces, including surgical-grade stainless steel, classic sterling silver, 10ct rolled gold, and 10ct and 14ct gold and titanium. While all our medical IDs are handmade, at the same time, we work hard to ensure that they are as affordable and accessible, especially to those who need them the most.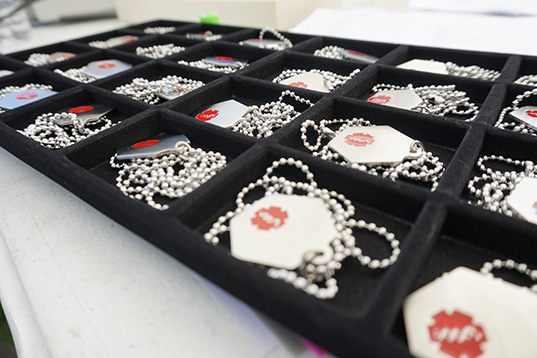 A medical ID is recommended to anyone living with a medical condition. Health organizations in the United Kingdom such as the NHS, Epilepsy Action UK, Alzheimer's Society UK, and Allergy UK recommend wearing a form of medical identification such as an ID bracelet, necklace, or a wallet card to get proper treatment in an emergency.
Universal Medical ID products have no annual membership fees and come with a full 90 day warranty against defects. Our medical IDs allow our customers to identify themselves and safeguard their health for life. Order online, by phone or by post. Contact us directly to get help in choosing the best medical ID or customising your engraving. Live chat and phone representatives are available on weekdays from 9AM - 5PM GMT.